Les beaux jours sont là et les nouveaux patrons et projets couture fleurissent un peu partout sur le net. J'ai aussi voulu rajouter mon grain de sel à tout ceci.
La robe Abena. C'est lors d'une conférence téléphonique que j'ai brusquement eu cette idée de robe pour l'été. Une robe 100% été faite de fibres naturelles avec de larges bretelles et un petit bustier. Je l'ai rapidement dessinée sur mon cahier et je me suis reconcentrée sur ma conférence téléphonique. Un coupon de lin plus tard, la robe était prête, repassée et pliée dans ma valise prête à partir pour une expédition en Asie. J'ai fini par porter cette robe TOUS les jours, et la changeais seulement lorsqu'il fallait la faire laver. Je l'ai postée par la suite sur les réseaux sociaux et j'étais agréablement surprise des retours positifs que j'ai reçu.
Je vous propose donc un pas à pas pour réaliser cette robe. Vous pouvez télécharger le tutoriel complet ici. J'espère que ce modèle vous plaira. Et n'hésitez pas à  partager vos réalisations de la robe Abena.
---
The Abena dress
Hello my beautiful people,
The lovely days are already here, new sewing patterns have been released and awesome projects are flourishing on the internet. I thought of contributing to all this joy with this Abena dress. I am sure you will love wearing.
The Abena dress. It was during a conference call that I suddenly had the idea of this dress for summer. A dress 100% made of natural fibers, with large straps, and a short bodice. I quickly drew it on my copybook and refocused on my call. A piece of linen later, the dress was ready. I ironed, folded and placed it in my suitcase ready to explore Asia. I ended up wearing this dress every single day as it was incredibly confortable. I only changed clothes when it was being washed and once dry I would wear it again. This is how comfy it was. I posted the Abena dress on social media and was so surprised to see the positive feedback this simple dress got.
I am now sending out the tutorial, for those of you who will be interested in making this wonderful piece. You can download the complete tutorial here. I hope you love this dress, and do not hesitate to share your makings of the Abena dress.
Enjoy your sewing !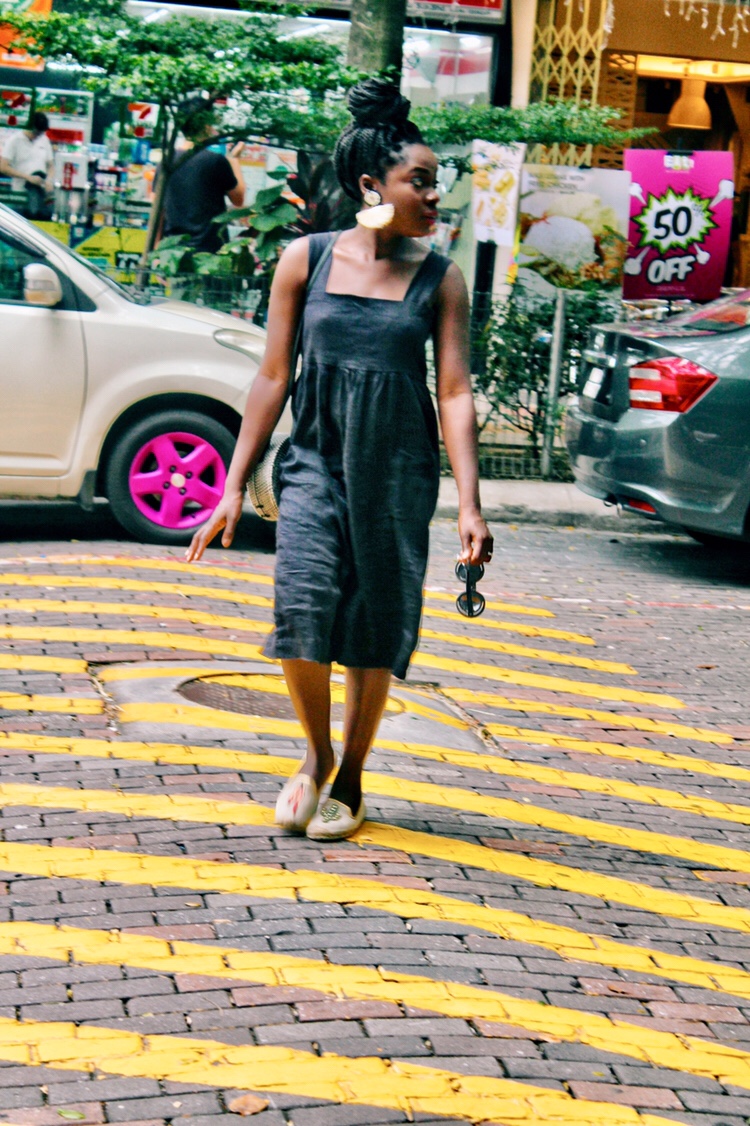 Low Yat Plaza, Kuala Lampur, May 2018.