Que vous travailliez où que vous soyez en vacances, j'espère que vous passez un bel été. De mon coté j'ai juste pris une semaine, mais je pète la forme, avec pleins d'idées dans la tête mais toujours avec un manque de temps considérable. Souvent je me dis qu'une journée de 27h me conviendrait parfaitement!
Aujourd'hui nous allons parler de Recup' d'objets avec ici un cas congrès. A part l'aspect économique, l'un des aspects qui me plait dans la Recup', c'est le fait de dénaturer l'objet tout en l'embellissant, l'améliorant et en le repensant pour d'autres fins. C'est le cas de cette desserte FÖRHÖJA qui servait de meuble principal dans cette cuisine avant que celle-ci ne soit équipée. Une fois équipée, cette desserte autrefois vu comme super utile, est  soudainement devenue un fardeau. Mais comme il manquait une table, il y avait donc moyen de transformer celle-ci en table à manger, en posant simplement la plan de travail sur la desserte.
I hope you are enjoying nice weather. At my side I only took one week off, but I feel good! I even have more ideas but still lack much time. I sometimes think that a day of 27 hours would be perfect for me. Dont't you think so?
Today we are going to talk about salvage with a practical case. One of the sides of salvage that I really like is the fact of altering the item but at the same time bringing some embellishment and improvement to it.  This is what I tried to do here with th Ikea FÖRHÖJA kitchen trolley. This trolley was the main furniture item in the kitchen before it became fully equipped. So when it was no longer essential, it suddenly became « too much ». The idea was then to turn it into a dinning table by simply placing the rest of the working surface on it. 
LE REMAKE EN 3 ETAPES/ THIS REMAKE IN 3 STEPS
1.Poncer / Sanding 
Gratter la desserte à l'aide d'un papier de verre.
Sand the kitchen trolley with sandpaper.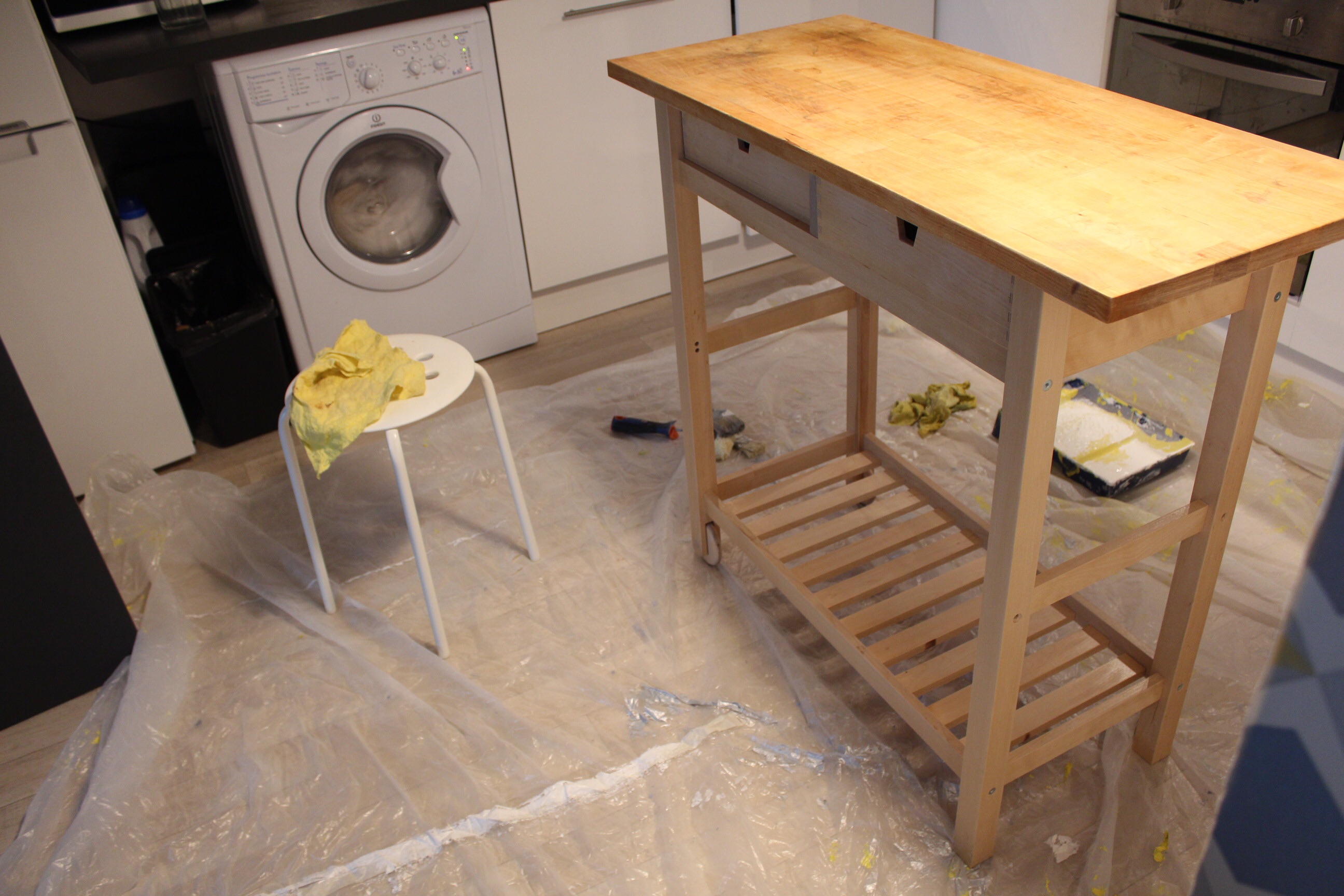 2. Peindre / Paint
Afin de faire paraître le plan de travail et la desserte comme un même meuble, j'ai pris une peinture à la couleur se rapprochant le plus de la couleur du pan de travail.
In order to make working surface and trolley look like a single piece of furniture, I used a color that was very close to the working surface.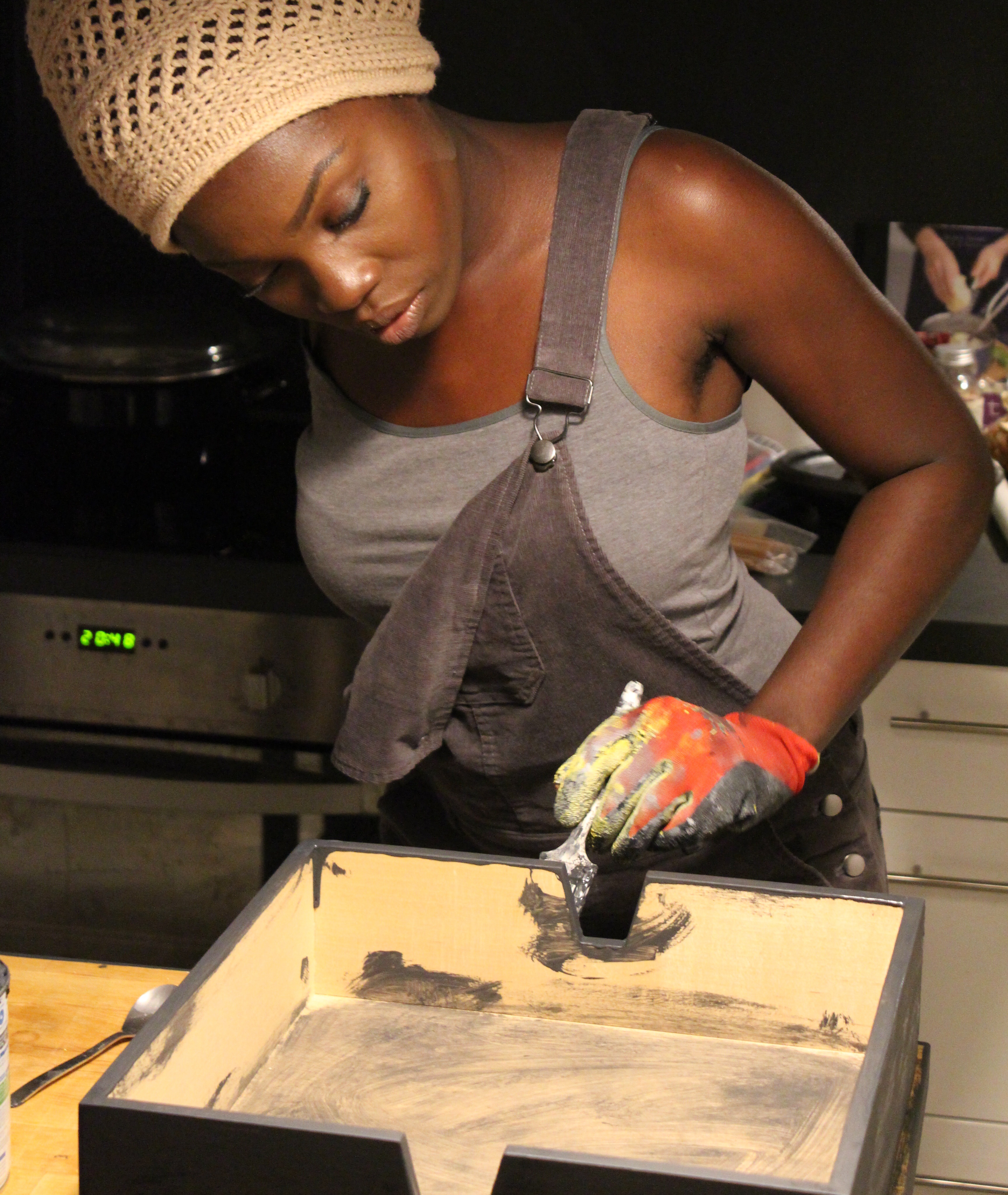 3. Monter / Assemble 
Une fois que la desserte est sèche, poser le plan de travail préalablement mesuré et coupé sur la desserte (ici 135 x 65). Et c'est fini!
Once the trolley is dry, measure and cut the work surface (135 x 65 here) and simply place it on the trolley. You're done!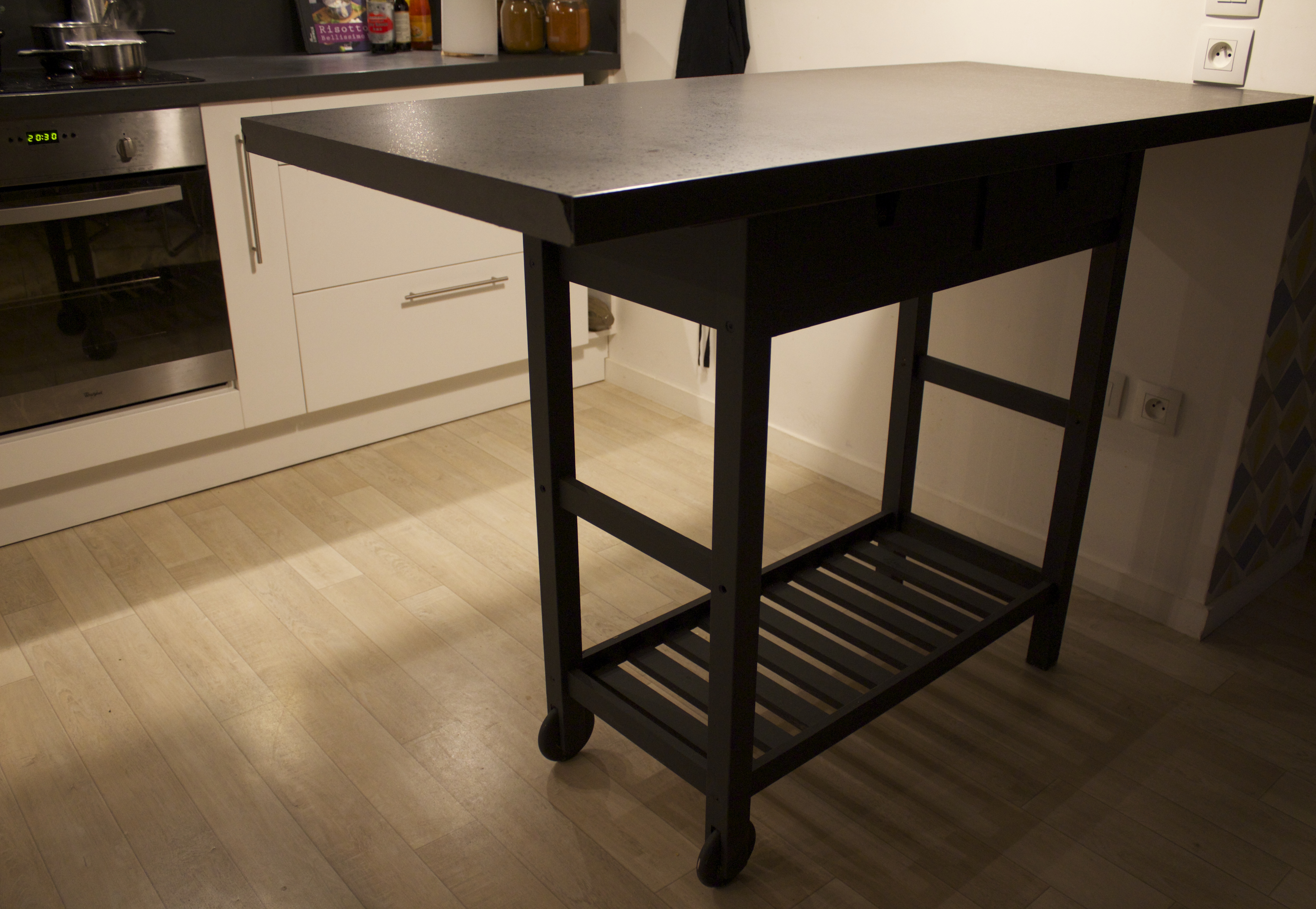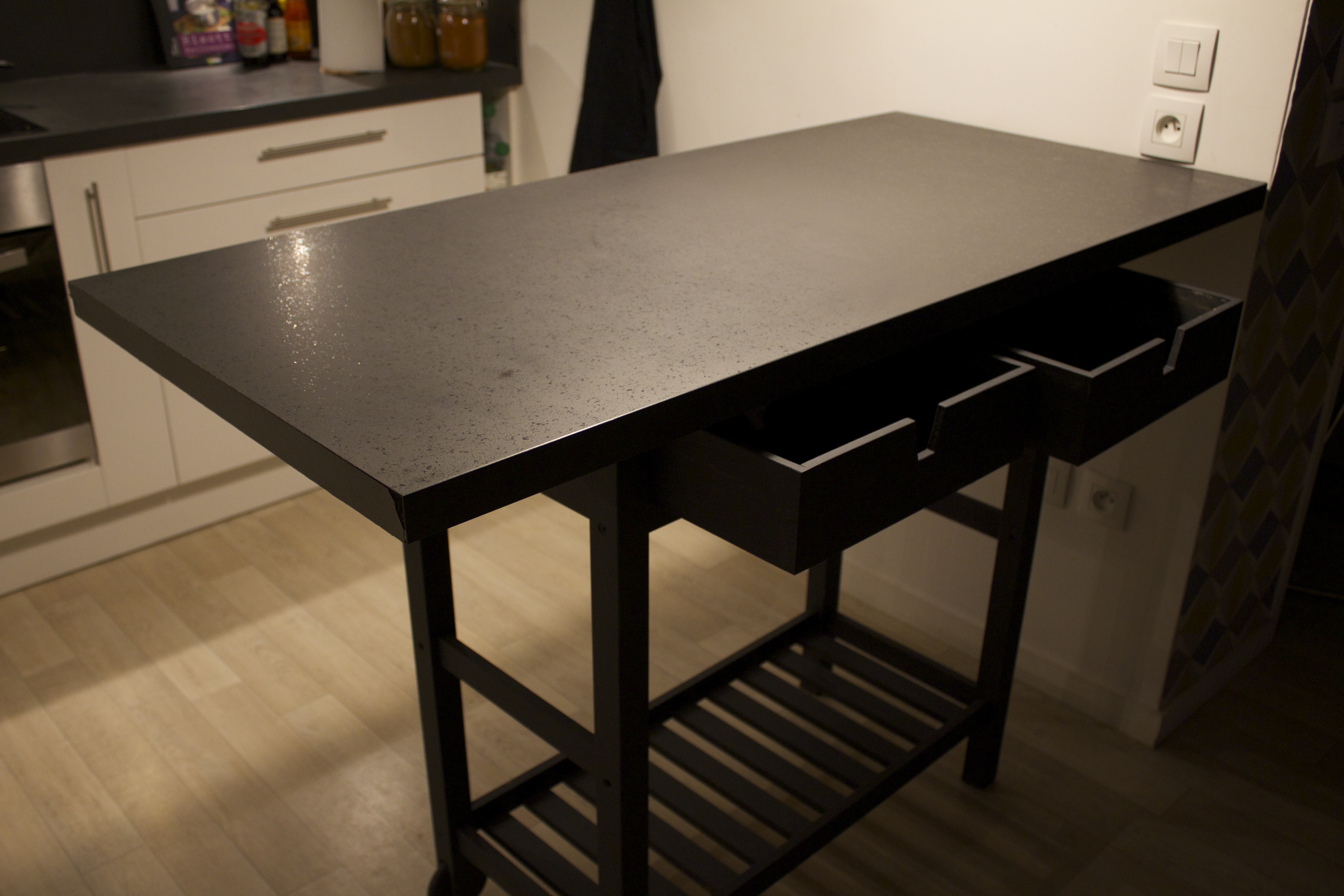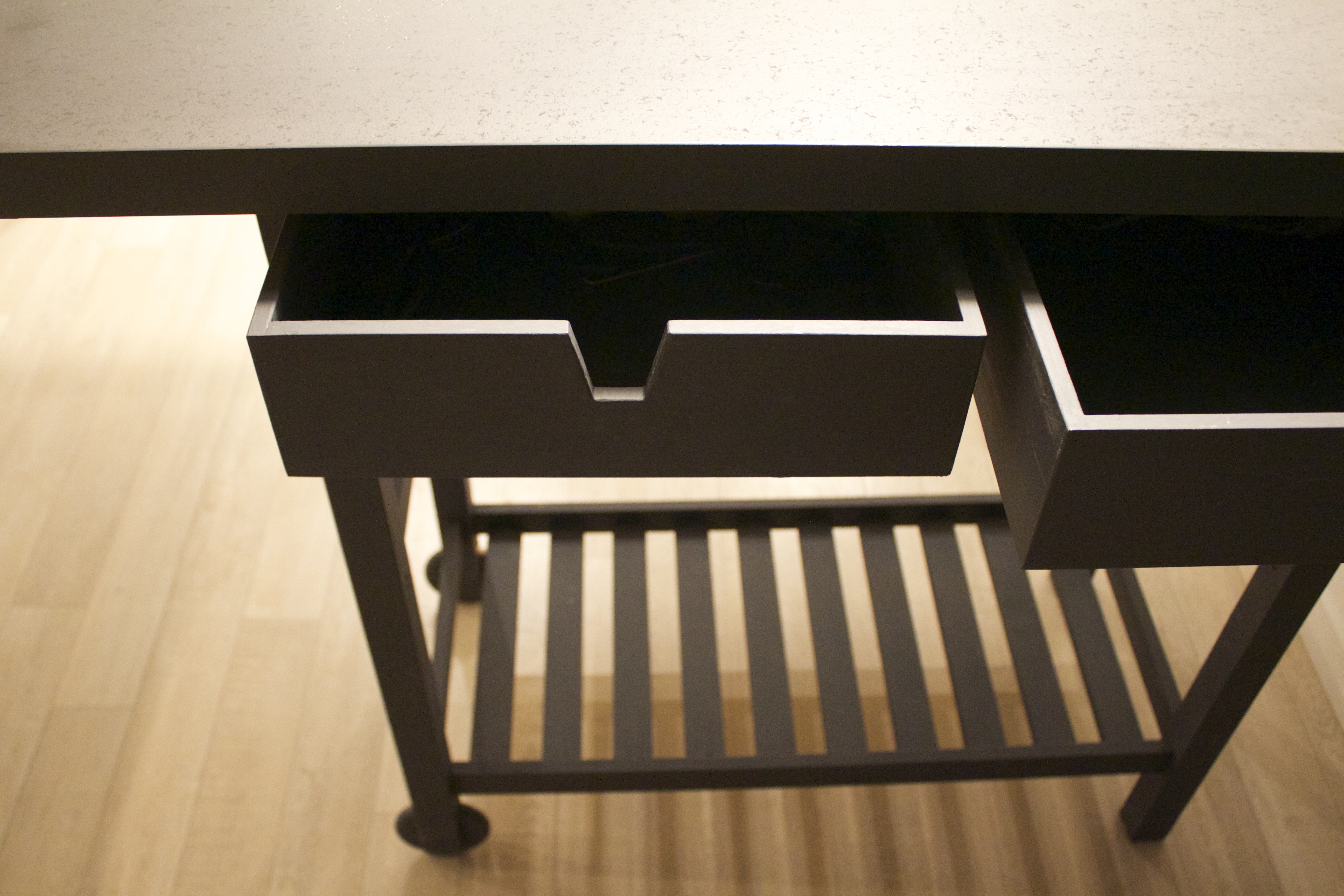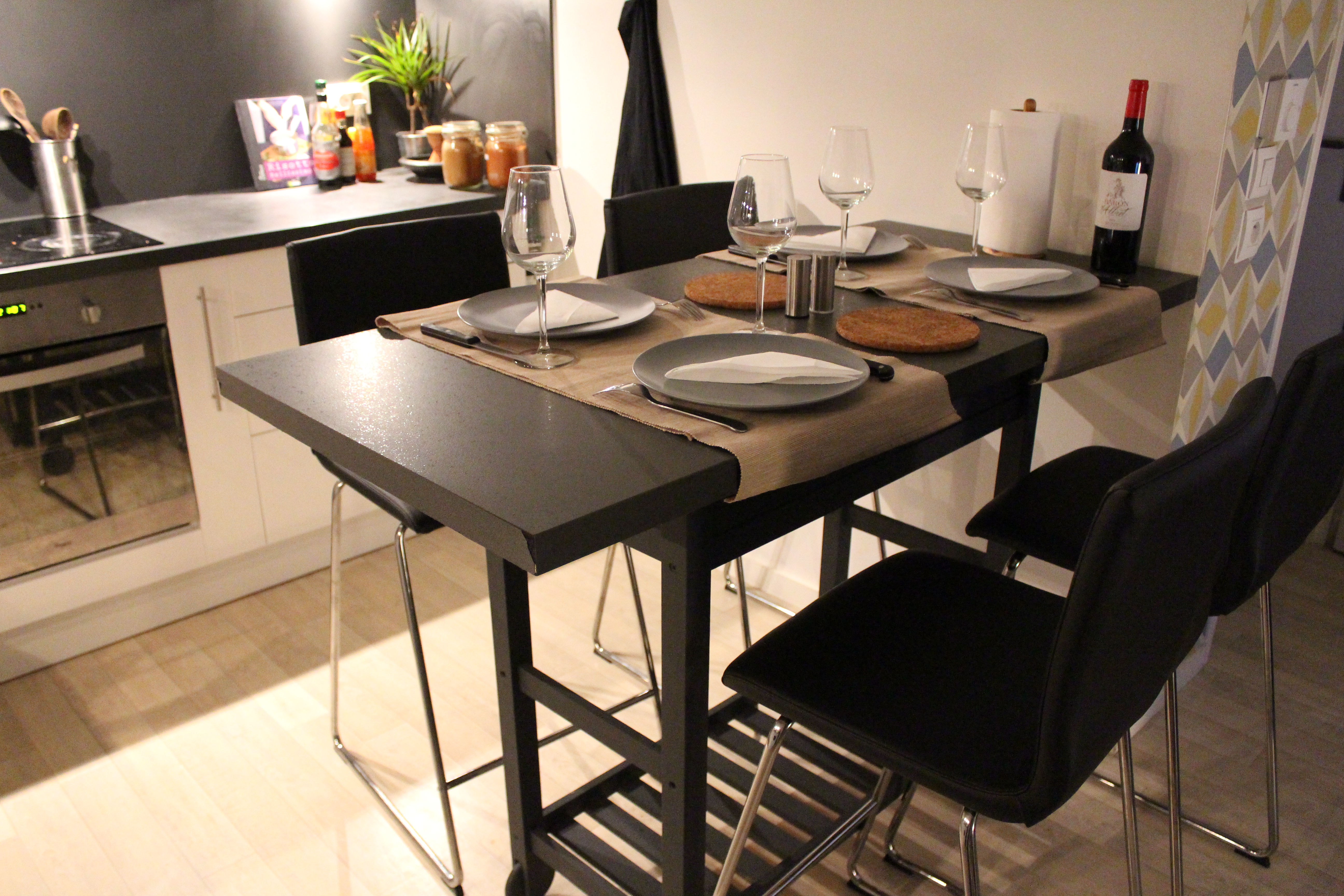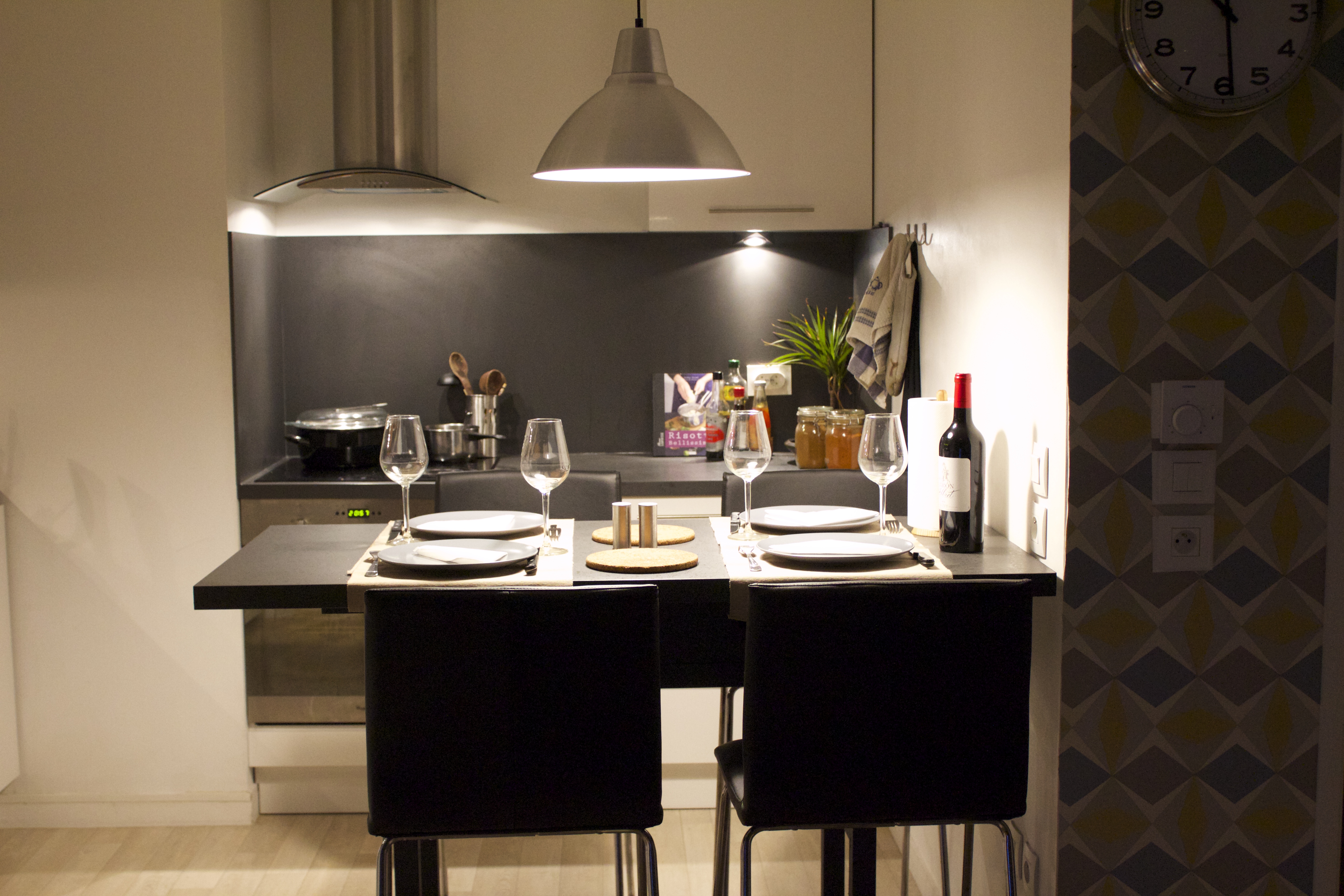 Est-ce que vous avez trouvé ce post utile? Avez-vous eu de nouvelles idées? J'adorerai savoir. Ah oui, avant d'oublier vous serez peut-être intéressés de voir la « piraterie » que j'ai fait de la chaise Poang d'Ikea.
Merci d'avoir lu 🙂
Did you find this post useful? Did it give you new ideas? I would love to hear about them. Oh, before I forget, you might want to have a look at my Ikea hack of the Poang chair. 
Thanks for reading 🙂